8 Hour Winter Steelhead Fishing Adventures!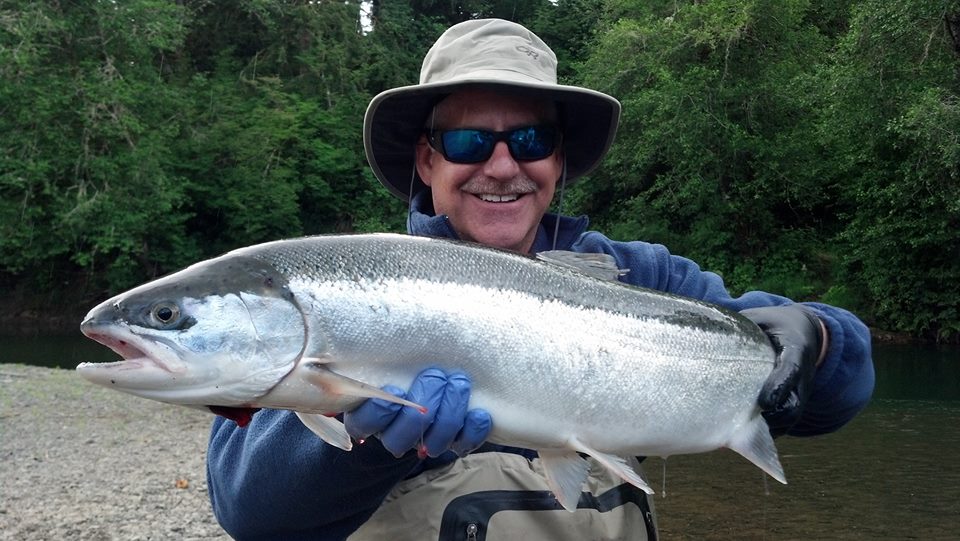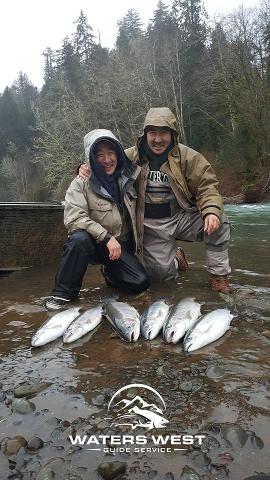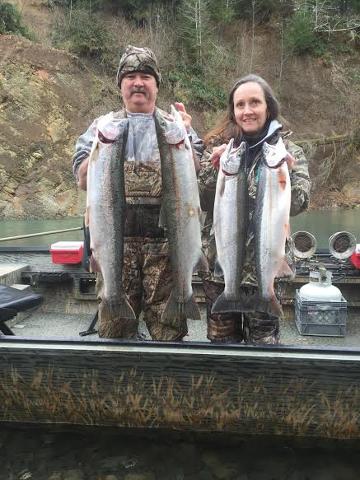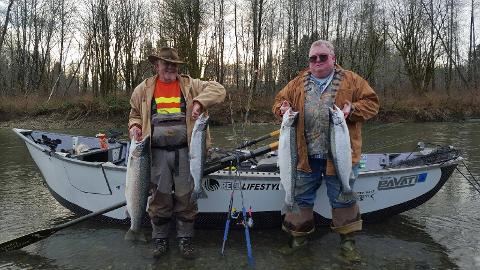 Duration: 8 Hours (approx.)
Fish the Wynoochee, Satsop, Olympic Peninsula, Chehalis, Cowlitz or Humptulips River for Winter Steehead all small rivers and small groups of 2-3. These fishing trips are for 8-9 hours and usually meet around 6am in Montesano, Hoquiam or Toledo, depending on which river you are fishing.
You benefit from our countless years of combined experience to choose the perfect river, the perfect section of river and species to target based on local knowledge and customer preference. If you really want to fish only 1 specific river we can make that happen. If you really want to fish on a specific date we can also make that happen. If you want to leave your trip up to the fishing guide to choose the best date and river we can do that for you as well.
Learn more about these excellent steelhead fisheries below and why we recommend them for your Winter Steelhead Fishing Adventures.
Wynochee River: The Wynoochee River originates in the Olympic Mountains of the Olympic Peninsula in Western Washington State. Steelhead return to the rivers of the Pacific NW from the Pacific Ocean. Hatchery steelhead leave the fish hatcheries or streams where they were deposited as smolts, travel downstream to the Pacific Ocean and stay in the Ocean 2-4 years before returning to their stream of origin. Native steelhead similarly return to the streams where they were hatched and raised to spawn. The Wynoochee River is also the home of Waters West Guide Service. We are the ONLY guide service with property on the Wynoochee River. The Wynoochee River usually gets 180,000 steelhead smolts each year.
The Humptulips River is located near Hoquiam, Washington and Ocean Shores, Washington. It is a terrific, mostly drift boat, fishery that usually receives around 100,000-140,000 steelhead smolts each winter. This river also originates in the Olympic Mountains and is an excellent choice for both hatchery or native (native fish must be released) fishing.
The Olympic Peninsula Rivers are considered anything north of the Humptulips and provide excellent winter steelhead fishing opportunities.
The Satsop and Chehalis Rivers also have an abundance of hatchery winter run steelhead. These rivers are closer to Olympia and I-5 and sometimes fish better than the Wynoochee or Humptulips when the water gets extra low.
The Cowlitz River is famous and popular for it's hatchery fish programs. There are 2 large state-run hatcheries on the Cowlitz River. There is a salmon hatchery at the Mayfield Dam along with an excellent visitor center and fish collection facility you can view. There is also a 'trout' hatchery at Blue Creek on the Cowlitz RIver just below the Mayfield Dam and hatchery. Blue Creek is the most popular spot to fish for Winter Steelhead on the Cowlitz. We usually start fishing the Cowlitz River in late February through early April for Winter Steelhead. These trips are all done out of 'Sleds' which are fishing boats with outboard motors that can run in shallow rivers.
Questions or help placing an order call text or email 253-389-0359 jessica@fishwaterswest.com